Reviews for Dangerous Secret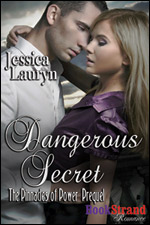 "Jessica Lauryn is a top notch author who brings murder-mystery, romance and suspense together to create an enthralling, page-turning read which keeps you hooked from the first page. That is, the romance is so entwined with the mystery that it carries the story along at a great pace and before you know it one chapter, two and more go passed as if you have eaten a whole block of chocolate. The story too is very character driven and you get the feel of a Janet Evanovich type novel where you know where the characters stand but do you really?"
~ Alicia Fiori, Take A Break Reads





"This is a great romantic suspense with just the right amount of romance and suspense. At first, I was a little disappointed that the characters were so young. (College and Graduate age.) I tend to read books with characters closer to my own age. This disappointment soon disappeared as I was drawn into the story and I found that I could identify with these younger characters and their experiences.
Best friends Abigail and Julia have summer jobs as desk clerks at the Washington Valley Hotel. Their boss is a handsome medical student, Ryan Newberry. Although dating is against the rules for co-workers, Abigail and Ryan manage to become involved. Abigail is haunted by the murder of her father when she was a young teen. Her father was a hotel manager and Abigail's new summer position brings the memories flooding back. Her father's murder was never solved and Abigail is determined to solve the mystery. When several people at the hotel are murdered, Abigail links the new murders to her father's murder. She also links her new love interest, Ryan, to all the murders. Abigail puts herself in danger as she uncovers more and more of the truth.
I enjoyed this book very much. I wasn't familiar with the writing of Jessica Lauryn. Since this book is a prequel to her Pinnacles of Power series, I will definitely be reading more books by Ms. Lauryn. (There are four books in the series including this prequel.)"
~ Molly Waters, My Book Addiction and More

Reviews for Dangerous Proposal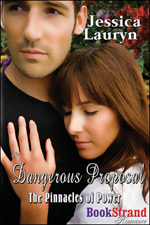 5 Stars! "Totally Incredible and so unbelievable ! That does not even fully come close to a description worthy of this book! I totally adored every single second! Page turner over and over and over again!
Alec is that somewhat sexy mysterious character that adds the element of surprise to the book,Lena is the lady in danger that needs some serious rescuing and her ex is the totally psychotic monster from hell!
The book was so incredible and really had me on edge, I could not put this one down. The element of no trust between Alex and Lena throughout the book was so very unique and the plot was a truly remarkable one.
You are most likely thinking they fall in love ,he saves her and that is the end of it ...wrong! I am not wanting to give away the entire book here so I will say this, yes they fall in love and yes he rescues her in more way than one but there is more than a twist here. The book was full of wonderful surprises and the author drew me in and I simply could not let go.
The characters were very uniquely and cleverly written by the author. The scenes were at times so vivid that trying to picture it in my minds eye was no hardship at all.And the fact that every character in the book is somewhat suspect and keeps you guessing was truly a wonderful element!
This is one proposal you will not want to miss!!"
~ Desere Steenberg, Bitten By Love Reviews

"First things first!! Wow! Jessica Lauryn sure knows how to make a scene hot & spicy! There were a few times I had one of those "Is it getting hot in here?" moments. She can convey an image of passion that leaves her readers panting! Fantastic job on that aspect!! The attraction between our two main characters, Lena and Alec is scorching!!
All in all I enjoyed the story. There were some scenes that I could've done without and I didn't think were necessary to the story. I can get past that though! :)
This is a story where everyone that is entwined within the pages has some sort of secret and when there's a secret no one's talking and things are miscommunicated right?
There were a few characters in here I didn't warm up to ever. Lena's friend, Julia was one. It almost seemed like Julia didn't really like Lena. She gave her bad advice and flirted with Alec when she knew Lena was into him. I mean she did help her when her tire got flat, gave her a place to stay, and directed her towards a job...but that's where it stopped. Her personality and manners towards Lena really irked me. Then there's Jack. WHAT? How she ever really considered him a friend was crazy! He was just weird! We find out later on just what kind of secrets he's withholding and they tie up with exactly what Lena is trying to escape from! Ahhh those secrets always come back to haunt ya'! This is not me bashing the characters, by the way, we aren't suppose to really like Jack. They are written well enough that your feelings get tampered with and you are thus invested in the story! Great job Jessica Lauryn!
Then we have Alec's brother, Colin Westwood. Naturally they are tied up in secrets together being related and all. What these two have are a sibling rivalry that goes too far. Colin always wanting to be the best and Alec one step behind. What we try to figure out is does Colin hate his brother enough to be a part of Alec's undoing? Hmmm...I'm thinking there has to be more on this story.
Let's not forget Lena and Alec together. These two were perfectly matched. There are only a few woman out there that can stand an arrogant, cheeky, domineering personality. I liked him! He was a strong character and his sense of humor was one of a kind. Most others would think "I can't believe that he had the gall to say that!'' I was cheering ''Go Alec get under Lena's skin!'' ha ha Of course, I was also cheering Lena on because she sure can spit fire with fire! She couldn't resist the fire though, but we're not all strong when a mans lips are fervently all over you making you moan for things your brains telling you to reject! Those made for some nice scenes...whewww let me tell ya'!
I give this book my thumbs up!"
~ Jessy Johnson, BookEnd 2 BookEnd 3 thumbs up = I like it!

"A complex and multilayered novel of contemporary romantic suspense, Dangerous Proposal is populated by numerous villains and good guys; but like driving on a mountain road in fog, sometimes it's hard to see where you're going, and difficult to know whom to trust. A bad choice can result in years, or a lifetime, of trouble: just ask protagonists Alec and Lena, both of whom put their trust in the wrong people and have lived to regret it. Of course, living may no longer be the option, as some folks just don't like to forgive and forget-and some mistakes are irrevocable.
Set in New Hampshire, Dangerous Proposal is unusual in that it's not ascribed to the ordinary big-city, urban fast-moving locales of many suspense novels, but never fear, there's plenty of suspense, plenty of convolutions, plenty of "steam" and I don't mean of the locomotive brand either. Readers who like their mystery and thrills served up hot and wild will enjoy Dangerous Proposal."
~ Archie Sandwood, Mallory Heart Reviews


"Alec Westwood was recruited by an organization as a hired assassin. He was 19 at the time and when it became time for his first kill he could not do it. Alec then dedicated his life to saving others by becoming a doctor. Lena Benson was engaged to Lucas Ramone and didn't want to be. She overheard Lucas talking to his father one night and knew she had to get out of there. Lena ends up in North Conway where she has an accident. She meets Alec, who sees an amulet she is wearing that is the symbol of the organization and thinks she is there to lead him into a trap. Lena thinks that Alec is working for Lucas and keeping tabs on her. Everything comes to a head at the costume ball held by Alec's parents. Then both the secrets that Lena and Alec have held since they met are revealed.
There are a lot of misconceptions running through this story and each of the main characters tries to find a way to deal with each other. Neither one of them can fully trust the other without coming clean about themselves. There are a lot of elements packed into the pages of this book. There are things like organized crime, Ramone family with their greed, sibling rivalry between Alec and his older brother Colin, and witchcraft involving Jack who works with Lena at the daycare. All are blended into a tale that just keeps you reading and reading to see what will happen next. Enjoyable, fast-paced romantic suspense."
~ Ellen Hogan, Readers' Favorite

"At the age of nineteen Alec Westwood makes the biggest mistake of his life when he agrees to become a cold blooded murder for hire only to change his mind at the last minute and narrowly escapes with his own life intact. He spends years of his life looking over his shoulder, and as soon as he becomes relatively comfortable in his life again, a stunning woman enters it turning it upside down. She not only wears the insignia for the organization that recruited him, she also leaves him spellbound after just one kiss.
Lena Benson is on the run to get away from her obsessed diamond smuggling fiancé, Lucas Ramone but just as she's about to forge a new life, Alec Westwood enters it charming her. She's convinced he's the man her fiancé has hired to track her down, while he's convinced she's the one sent there to finish him off. Lena takes matters into her own hands and Alec soon realizes the power she holds over him is far greater than all his strength and fortitude combined, only he's not the only one bewitched in the end.
Dangerous Proposal is complimentary to the first installment of this series as it gives us a better understanding of Lena's story, her unhealthy relationship with Lucas, and her happily ever after with Alec. It's a well written tale of murder, suspense, and a loving happily ever after before it finishes. The sex is smoking hot, the wooing is absolutely romantic enough to make you sigh, and it's filled with unsuspecting plot twist throughout that will leave you wanting more. I can honestly say that I hope Ms. Lauryn will consider a third installment to 'The Pinnacles of Power' series as it would be nice to see Alec's brother, Colin, get what's coming to him, as well as see sisters Lilah and Lena reconcile. Go get your copies today!"
~ Jennifer Labelle, Labelle Books


"I was excited to read Dangerous Proposal after reading the series opener for Ms. Lauryn's Pinnacles of Power series, Dangerous Ally. While I don't generally read contemporary romance, Ms. Lauryn surely gets this vampiric reviewer's seal of approval. I look forward to future installments of this series. It's a welcome break from the 'other worldly' literature I generally read.
For starters, Dangerous Proposal ACTUALLY takes place before Dangerous Ally. As a clarification from Ms. Lauryn, Dangerous Proposal is the second book in the series. Dangerous Ally is book #4. I'm told the next published will be book #3 in the Pinnacles of Power series. Lena Benson, our damsel-in-distress, was involved with Lucas Ramone. We don't see exactly how things transpired with Lena and Lucas, but we do see that Lena escaped from the prison that was the Ramone compound. Lucas is made-out to be an absolute monster, which is contrary to what we learned about him in Dangerous Ally. Lena's sister is actually the heroine of Dangerous Ally, and Lucas... well, you'll have to read to find out! Knowing up-front that Dangerous Proposal takes place prior to Dangerous Ally certainly helps the reader place things, and understand some of the context of the first novel, as well as this title.
We don't see much of Raphael Ramone in this title. What little we do see cements my opinion of him as the male version of Mommy Dearest. We do, however, get to meet Lucas' mom, which was a revelation for me. It made me understand the goings-on of the Ramone household a bit more.
Dr. Alec Westwood, a man with a few skeletons in his closet, seems lost and searching for something at the onset of Dangerous Proposal. Flitting from one-night-stand to one-night-stand while performing his duties as a doctor in the local hospital didn't seem to give him the fulfillment he sought. While his affluent family appeared to have a high-profile in the community, Alec wandered rather aimlessly until THAT night. Guys' night out. Local watering hole. Peeved by his brother's arrogance and seeking quiet solace, Alec saw HER. Enter Lena Gallagher. That night, Alec's perspective on life changed. Whether he was willing to admit it, or not.
The elusive Lena Gallagher, scared and eager to begin her life without (and hiding from) Lucas Ramone, entered into an even larger and more tumultuous challenge when she met Alec Westwood – doctor, playboy, and enigma. As paranoid as Lena was about being located by the maniacal and possessive Lucas, she certainly rooted herself to the small town in which she landed. Acquiring a job and securing a place to live, Lena entrenched herself in the community, especially Alec's life, even though she appeared to lie-low. Her dynamic relationship with Alec, however, appeared to be wrought with doubt and unspoken accusations from the beginning. Fortunately for the reader, we know this is a romance and there should be a 'happily ever after'. As a plot strategy, Ms. Lauryn should be commended for utilizing the mistrust and manipulation angle effectively throughout the story.
I thoroughly enjoyed the 'courtship' between Lena and Alec. Alec's creativity, with regard to Lena and their meetings/activities, was surely a high point of the story line. Interspersed with both Lena and Alec's self-doubt and internal conflict, these gems were intensely romantic and created even more intrigue for this reader.
Jack – I totally couldn't figure him out, however. I enjoyed his plot line, and NEVER would have guessed his importance to the story. Completely unpredictable! I did, however, have misgivings about his place of employment – which is probably due to my own personal feelings on certain topics. This was a phenomenal plot twist, and while it felt as though a portion of this sub-plot was dismissed at about the 75% mark, Ms. Lauren does revive this thread near the end, tying it up in a neat little bow.
Colin, Alec's brother. I have a theory about this one. I'm eager to see how the next installment of Pinnacles of Power looks to see if I'm right!
SPOILER ALERT: Lastly, at the end of Dangerous Proposal, it appears as though Lucas is out of the picture, permanently. Because I've read Dangerous Ally, and know that this title comes AFTER Dangerous Proposal, I contacted Ms. Lauryn. In Dangerous Ally, there is ONE paragraph that hints at the contents of Book #3, tentatively titled Dangerous Proposition. She cleared up my confusion, and I did recall the plot point mentioned, originally thinking it was merely backstory. END SPOILER
Jessica Lauryn weaves an excellent tale of intrigue, romance and suspense in her expertly-crafted Dangerous Proposal. While readers of the prior novel in the Pinnacles of Power series will see familiar characters, the depth and breadth of character development in this title will leave the reader with a few new 'friends', as well as a couple 'sworn enemies'."
~ Vampbard, That's What I'm Talking About


"Lena is on the run. She desperately needs to get out of the country and away from her psychotic X, and start a new life. But things start going wrong. She has forgetful spells and ends up wrecking her car on a guardrail and stranded in a small town. She is rescued by one of the locals who immediately takes her under her wing. For a while Lena is convinced that everything will be ok until she runs into Alec, a man who's kiss had burned a spot into her memory.
Alec has his own secrets. Trying unsuccessfully to come out of his brother's suffocating shadow, Alec does his best to avoid him but forever seems to be hounded by him. To make matters worse, one kiss from one incredibly attractive woman has left this particular playboy baffled. To top it off he is unable to find her and he finally does, she eludes him once again!! With some many secrets circulating and skeletons being released from their closets, is there any future for them?
The one thing that I really liked about this story was everyone was a suspect. No trusts anyone but I will guarantee that after reading this, you will hate Colin. I thought at first that maybe it was just the way the brothers were but quickly deduced that Colin was just a power-hunger dusch..lol. There really weren't any likable characteristics in him. Quite the opposite of Lena and Alec. Lena is truly an innocent, nice girl, which gets her repeatedly into bad spots. Alec is the more misunderstood character. Most people see him as a playboy and refuse to admit he has depth. You will swear everyone in town hates the two of them. It was really an enjoyable read!! I'd recommend it to all mystery/suspense, with a little bit of romance lovers!!"
~ Nikki McCarver, Close Encounters With the Night Kind
Reviews for Dangerous Proposition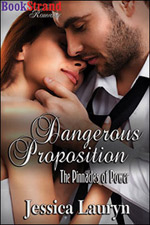 "When Julia Dyson learns her father has been abducted, she believes his hidden profession may be to blame. But when she discovers a man's name in her dad's caller history, a man suspected of shady business activity and also her teenage crush, she decides to take matters into her own hands. She confronts her father's presumed abductor, resulting in an unforgettable kiss. In the course of one disastrous evening, diamond smuggling kingpin Colin Westwood learns that his best recruit is missing in action, and that the man has been keeping a secret for years—he has a twenty-six-year-old daughter. Determined to protect his identity, Colin vows to find the young woman, and keep her silent at any cost. Later intrigued to learn that she is actually the attractive woman he kissed, he makes Julia an offer. Come to New York City with him to search for her missing father…as his mistress.
This book was a good read. It had everything from a heroine that stood up for herself and thought on her feet, to a sex doctor. Julia will do anything to find her father and it leads her into danger at every turn. She is not really sure if she can trust Colin or not. She puts her life in his hands and the pair race against the clock to locate her father."
~ Brandy, Bitten By Love Reviews

"Julia Dyson has a problem: her father, Tucker Dyson, is missing and the man for whom she has carried a torch for quite some time may very well be his abductor! Tucker has kept his occupation a secret from his beautiful daughter, except she knows that it must be not only covert but dangerous as well, and when he goes missing Julia soon discovers that the handsome and filthy rich, Dr. Colin Westwood is definitely in deep.
Julia confronts Mr. Tall Dark and Doctor only to find herself on the receiving end of an indecent proposal: Be my mistress—with all the benefits, and I'll let you in on the search for your father. Julia is taken aback but agrees to the terms only to renege when the time comes to pay up—no matter how hot he is or the fact that she wants him so badly that she could explode. Moreover, Colin has been holding his cards close to his chest and those cards contain some very dark demons.
Together Julia and Colin dive head-first into a rush of danger and suspense to save Tucker Dyson, but will they survive their passion, the ugly truths that will be revealed, or the risky mission itself?
I enjoyed DANGEROUS PROPOSITION by Jessica Lauryn very much. The young author has lovely talent and so very much to offer in the future. Her storyline had everything that I love to read: suspense, romance, and loads of conflict—oh yes, Ms. Lauryn has NO problem writing plenty of conflict for her readers. The sexual tension was written very well, but didn't leave the reader flat when the love scenes arrived—very well penned, Ms. Lauryn! Sexy, hot, yet tasteful-thank you."
~ Cindy McDonald, Literary Wealth

Reviews for Dangerous Ally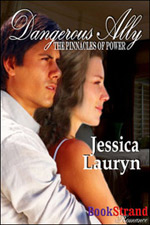 "There are times that if you let go of the person that you love and that love is meant to be, it will return. That is what finally Lucas was able to figure out but is it too late?
Living life as a criminal. Does it really mean that you can't change your life in order to find love, peace and happiness? At the beginning of this story Lucas wanted everything, his criminal life and also the woman that was becoming more than his father's executive assistant. He knew that she was after the big story of "Project Gemstone" but there was something about her that made him actually laugh and be happy.
As time passed with her living in his mansion, he found himself not being able to be without her, until one night that she disappeared and there was no sign of her. He vowed to find her. He knew that his father had her but after being missing for three months it was hard not to believe she was alive.
Lilah believed that she would be able to compile her story on "Project Gemstone", a diamond smuggling ring that was operated by Lucas. She knew that he was as psychotic as his father "Raphael" but there was something about Lucas that made her trust him. As time passed in his mansion, she found herself caring for him, just the simple walks in the garden or skating out on the pond. She saw him differently. She was able to see that he was not what everyone made him seem to be, even her own family. Then one night after a Christmas Party and Lucas's father threatened her, she sought out Lucas and he actually comforted her and did not try to take advantage of her. Little by little, she found it difficult to write the story on Lucas and expose him for the monster he is. Then one morning she found him in bed with the maid and she finally found out that he was what everyone was telling her he was, but was it really what she thought?
Wow! DANGEROUS ALLY really had a true demented villain in "Raphael" that would do anything in order to get "Project Gemstone" from his son. I really hope that he pays for everything that he did to almost every single character in this book. He just gave me the creeps from the very beginning.
I really enjoyed this book; it was so hard to put it down. It had all the twisted plots that a good suspense book should have with just the right amount of passion and romance. It shows the reader that not all relationships are a walk in the part, there are times that even if they are meant to be together, it is best just to let them leave and if they return, you know that it was meant to be. Just like Lucas and Lilah. Pick up this book today and see what struggles they went through to finally be together. I can't wait for the next book to come out."
~ CozyReader, The Romance Reviews

"The first novel in the series, Dangerous Ally, features new reporter Lilah Benson and sexy bad boy Lucas Ramone. You see, Lucas is a diamond smuggling kingpin who used to be engaged to her sister Lena, and also Lilah's nemesis. So why is it she decides to take a job working for his father in the same home Lucas lives? The answer is easy really it gives her a chance to write the story that will make her career soar. The plan sounds easy enough until she actually meets him again and is tempted by the unwanted desire he invokes inside of her. Oh, he's dangerous alright, because now that her heart is involved Lucas is more powerful than ever, but is he as ruthless and hard as she first suspects, or is he willing to make changes to save them both from the dangers that lurk in the background?
A tempting read, right? I thought so. The suspense begins immediately, and the chemistry between Lilah and Lucas is scorching. Add in manipulative relatives, sexy seductive staff members, a little stubbornness and a will to fight for what's yours, and you've got yourself this intriguing read that will keep you on the edge of your seat from beginning to end. I loved it!"
~ Jennifer Labelle, Labelle Books

"I found the book to be thoroughly engrossing and engaging from the start and I couldn't bring myself to put it down to go to bed. I had to keep reading until I reached the end just to find out how it concluded. Did the characters find their Happily-Ever-After? Well, I had to know, didn't I?
There were so many different twists and turns in the book, it definitely grabbed my attention. There are parts where I wasn't too sure who to trust. Of course, that worked to make me fall deeper into the story.
I really enjoyed the fact the author didn't stick with a golden boy. The hero, Lucas, just happens to be a villain. He knew he was one of the bad guys and would be the first to admit it. I like that the author didn't fluff out and fill him with excuses to blame everyone else for his behavior as some writers have the tendency to do. He kept on his big boy pants the entire book and didn't flounder for excuses. Of course, don't get me wrong, the man had a seriously dysfunctional family, major trust issues, a dark past, and a certain level of paranoia. Can't say I blame the guy though, but he didn't use those factors as a scapegoat for his actions.
While those driving forces impacted much of his life, it's great to read about this guy's bumpy road to redemption. Villain or not, you couldn't help but cheer on Lucas as he feels his way through uncharted territory with the heroine, Lilah.
Lilah was caught in between a rock and a hard place if I've ever seen one. She fights her attraction for Lucas, knowing he is the villain that left such a dark shadow hanging over her family. However, you can't choose who you love, right?"
~ Melissa Limoges


"Honestly, I was captivated with this book based simply on the synopsis. Then I began reading and it took it to a completely different level for me. Normally, I believe that the synopsis covers basically what the book is about. In this case, Lauryn left all secrets within the book, which made for SUCH a great read!
Lilah Benson has worked hard to become top reporter in her job, so when she gets the chance to break the story of a lifetime, she wants to badly to just accept.. Against her better judgement, she takes the meeting with Raphael Ramone, who informs her that if she work as his executive assistant, live in his… er, his sons mansion, and help him get dirt on Lucas, that he will give her a story that will make her career. There are just a few things wrong with this offer in Lilah's eyes. For one, this is the father of the man who Lilah is convinced almost ruined her sisters life. Secondly, the fact that this meeting ended with him basically blackmailing her into saying yes, she had a feeling this wasn't going to go exactly as planned. After all, if there was anyone worse than Lucas, it was his father.
Lucas.. Oh man.. Excuse me while I collect myself. For someone who is written as a villain for most of the book, this was one well written villain. Halfway through the book, I found myself falling for Lucas. Lialh's assignment is based solely on getting dirt on Lucas for his father. Simply right? WRONG. Each encounter with Lucas proved that this was going to be harder than she imagined. Lucas doesn't know what to make of Lilah. After all, she wasn't the he that he thought his father had fired to try and take Project Gemstone from him. So he changes up his plan. Lilah believes that Lucas is this ruthless jewel smuggler and killer. Oh how very wrong she could be. Working with someone who believes that you shouldn't breathe the same air as them is proving to be quite comical.
Lauryn wrote an amazing story. Watching Lucas try and win Lilah over was a joy in itself. After all, how does one convince the sister of his ex-fiance that he isn't the monster he was made out to be? How can he keep everything he has worked for AND get his girl? I expected Lialh to give in and give up a few times, but she proved me wrong and threw on those big girl panties! The love story between the two is not at all your typical. I loved reading the conflict. "How can I love someone who is supposed to be a monster." Yes, I had my cheerleader outfit out for this one! :)
The side characters in this novel made it for me. The mansion in which they all live is like a world of its own. Every time I thought I had something figured out, it turned out nothing like I thought. Kudos to Lauryn for writing one that actually kept me guessing. Yes, this is a Contemporary Romance, but there is nothing typical about it. I am glad I gave this one a chance, and I want to thank Lauryn for emailing me and asking me to review it! You have a winner here love :) "
~ Tabatha Ventura, Insightful Minds

"Dangerous Ally is a suspense that leaves you wondering what will happen next. In a world of diamond smuggling, deceit, and danger, who do you trust?
How many secrets can a one family really have? The Ramone family have so many skeletons in the closet they need to buy a cemetery just to hide them all.
Lilah Benson is a reporter on a mission to expose diamond smuggling kingpin Lucas Ramone. She'll do whatever it takes to get the story and show just how evil the Ramone family truly is. Until she meets Lucas Ramone and feels the soul searing passion he invokes in her. Her plan? Get the story as fast as possible and get as far away from Lucas as she can.
Lucas Ramone gets everything he wants and after meeting, the sexy reporter Lilah Benson he knows exactly what he wants.
Add one determined reporter and a conniving diamond smuggler shake well and you end up with Dangerous Ally.
This story took me on a roller coaster ride. Nothing was as it seemed and it was a pleasant surprise. Every time I thought I knew where the story was going, I was whipped around the corner and given a little shock. I love a story that keeps you on your toes and Jessica Lauryn didn't disappoint.
I found myself swept away by the characters and their struggles. Nothing comes easy for the characters in Dangerous Ally. They are all tortured in their own way. I found myself rooting for the Lucas and Lilah. Hoping that everything would work out for the unlikely couple.
I would recommend this story to anyone that likes a good mystery. You never see the twist and turns coming."
~ Tabatha Blake, Storm Goddess Book Reviews

"I really enjoyed the story. Filled with espionage and HOT bow-chicka-wow-wow, it was overall a great read. The plot arc was action-packed (and not just with the HOT scenes - get your mind out of the gutter!) and had several twists. While it wasn't a completely unpredictable story, I found it to be quite telling of unhealthy relationships across the world. Kudos to Lauryn for showing readers that men are capable of overcoming adversity at the hands of abuse.
Bad Dad was quite the villain in this story. Raphael hopefully gets what he deserves in the long run. Mr. Power-Hungry-Cold-As-Iceberg-That-Sunk-the-Titanic was the worst parent imaginable for young Lucas as he was growing up. I can't even give a comparison to a movie character/star for this dude... he's so negative and hideous with regard to his behavior, he must be hideous.
Lilah, our heroine, originally entered the life of Lucas to expose his diamond smuggling endeavors. BUT... she fell for him and that kinda never happened. *snap* The NYT journalist is completely able to care for herself, and resists admitting to herself that she's falling for Lucas until the 11th hour...even though she's gone through the resistance to his overbearing bossiness as well as attempting to blow off jealousy.
Lucas is our hottie hero. What's cool about him is that he's been raised by his dad who is a real *ahem* jerk *ahem*, and he even ends up learning valuable lessons through the course of the book. While it seemed like Lucas was lying to himself for most of the book, it was refreshing to see a relationship in a book develop in a more realistic manner. Kudos, Ms. Lauryn!"
~ Vampbard, That's What I'm Talking About


"When given the opportunity of a lifetime, a story about notorious bad boy Lucas, Lilah finds herself apprehensive not only because of the seedy business but at the prospect of loosing her heart. What can I say about Lilah shes one very storing female and I loved very much reading her spunk and bravery while standing up for herself against to very powerful men. There were some really great parts in this story where she wasn't afraid to tell it how it was but I think my favorite scene was at the end when she talked Lucas down it was heart felt and compelling.
Lucas has spent the majority of his adult life as a criminal with no want to change it, that is until the beautiful Lilah makes him rethink his entire being. For a criminal I have to say Lucas has a very great personality that shines through the pages and warms your heart. There were points in this book that showed his dark side and I would really like to know more about what happened between him and Lilahs family. For a so called bad boy Lucas came off to me as a knight in tarnished armor and I couldn't get enough.
This was a adventurous book filled with love, fear, and plot twist deglore. I highly recommend this book if you like a little bad in your boys and a strong willed female who isn't afraid to do what it takes."
~ JBP Reviews


"In this book we meet Lilah Benson, a reporter who has taken a job in the household of a big diamond smuggling Kingpin (Lucas). She thinks she is able to get a story of a life time but when she comes face to face with him she struggles over what she desires more her work or a passion for a man who is dangerous. Is Lucas really the man she thinks he is or is there more behind his bad boy image. Is he able and willing to make big changes in his life to save both of them from what dangers follow them.
Well what can I say, apart from it was a really interesting read that took me no time at all to read because I couldn't put it down. The story flowed so easy and had me gripped from an early stage in the book. I loved the relationship between the two leads, talk about hot, toe curling and belly fluttering amazing.If you haven't read this book then I really think its worth a try. I really think you will like it."
~ Sue, Satin's Bookish Corner

"Jessica Lauryn immerses her heroine and her readers into the lives of two notorious criminals. Lilah is such an ambitious career driven woman and I loved how her family and her insecurities often over rode her solid business sense. Lucas is a mysterious bad boy with an honesty that was both unexpected and refreshing. I loved how we got to see little pieces of him emerge that seemed to surprise him but not Lilah. His father was downright creepy, make no wonder Lucas turned out the way he did. I have to give Lilah credit for staying because I would have high-tailed it out of that sad mansion maybe even before setting one foot inside! I think I might have had a better understanding of some of the characters had I read Lilah's sister's story as I was a little lost when it came to a few of the key players but overall the personalities were interesting and the action intriguing. I enjoyed the epic feel of this story and think fans of heroes with a dark edge will enjoy it."
~ Pauline Michael, Night Owl Reviews